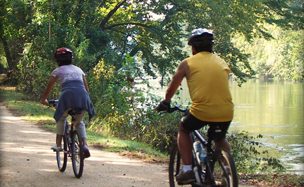 Bicycling and restaurant outside of Fort Gordon
We'll go to the bike path along the Augusta Canal to enjoy a 7.5 mile bike ride and then stop at a restaurant in downtown Augusta with outdoor seating. Then we would head back. It's on a flat surface and you won't need a rugged mountain bike. It is a relatively easy trail.
If you do not have a bike, helmet, or lock, you can rent one at the Bicycle Peddler, just let us know you will need to do that.
Date is tentative, but let us know if you are interested and we will keep you informed.
You'll need to bring money for food as well as around $20 for bicycle rental if you need that.